The O2G is a scalable application gateway offering high-availability capabilities for developing mission-critical applications used in verticals and industries.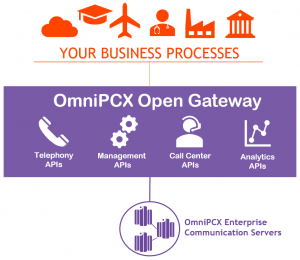 Advanced call control APIs: Call-control, directory
search, routing, communication log, messaging, event, phone-set programming, and more.
Management APIs: System, users, devices, full data
model, files, remote commands.
Analytics APIs: Inventory, performance, metering,
and Open Data
Call Center APIs: Agents, Routing Services
Offer OmniPCX Enterprise communications services with your business applications or processes and provide telephony services like click-to-call, visual voice mail, routing manager, screen popup, and more
Provision, configure and manage your 100% of your CS to create inventory reports, automated users, groups creation, trunk configuration, desk sharing automation, and more.
Analyze communication use and performance though unlimited
access to CS generated data such as proactive incident management, call consumption, performance monitoring, and more
Request services for your OmniPCX Enterprise Call Center Agents or implement your own routing strategy that fits your processes and business needs.