Hotels can now allow guests to interact with their facilities via their own devices. it's the new multimedia-over-IP (MMOIP) hotel-branded mobile application – working as an additional suite phone – enables rich communication services. It will allow guests to use their smart phones from the rooms or anywhere else in the hotel without having to pay extra roaming fees; and also to be contacted in any hotel space (i.e. gym, pool, etc.) as if they were in their suite.
The Mobile Guest Softphone makes all these possible via a combination of mobile application and gateway.
It thus provides a fully integrated communication experience, totally compliant with the OmniPCX Enterprise.
The Mobile Guest Softphone APIs include two libraries enabling the integration with the e-Concierge solution:
A REST JSON API, proposed by the Mobile Guest Softphone gateway to manage users and accesses to the communication resources shared with hotel applications (i.e. directory access for call by name)
A Native C++ API, delivered as a library to be embed in the hotel application client, it allows device registrations/deregistrations and multimedia-over-IP (MMoIP) call control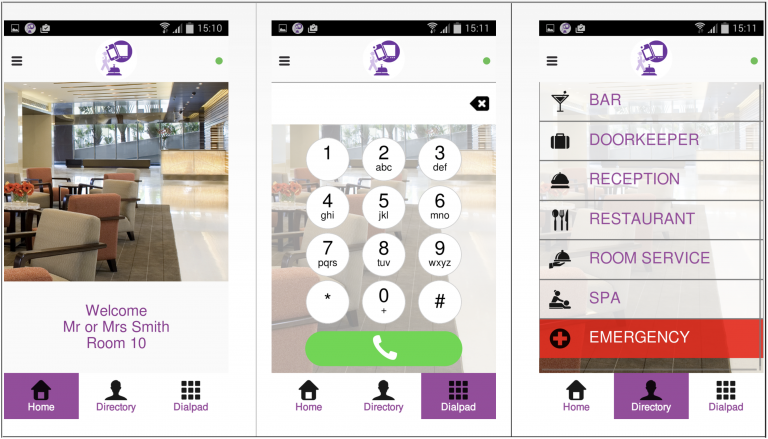 Mobile Guest Softphone gateway features

Guest creation and registration
Guest phone number retrieval
Guest deregistration and removal
Hotel speed dials management

Mobile Guest Softphone features

SIP device configuration
Guest registration/ deregistration
Call events and notifications management
Stand out from the competitionwith seamless access and around-the-clock availability to hotel services via hotel-branded mobile applications on guest devices
Allow guests to control their communications costs:

By allowing them to call hotel services or other guest rooms for freefrom their personal devices while inside the hotel wireless network
By enabling them to use hotel telephony services from their own devices for outside calls at local rates, rather than more expensive roaming services

Reach guests anywhere within the hotel wireless network, without needing their private mobile numbers
Create upsell opportunitiesby presenting hotel services on guest mobile applications
Offer enterprise-grade VoIP quality, with industry-proven Alcatel-Lucent communication platforms
Maintain low capital and operational expensewith no necessity of additional IT infrastructure or network administration